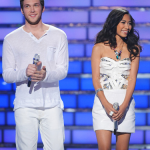 American Idol runner up Jessica Sanchez is proof that dreams can come true.
Her road to stardom has been a bumpy one and she's been working on honing her singing chops since age 2.
The Filipino-Mexican American singer remembers a time when she was bullied at school.
"When I was younger, I got picked on at school. I got bullied a lot, and people picked on the fact that I sing and I'm not good enough," she told  Asian Journal. But I didn't care about what they said. This is what I love to do and I'm going to go for it," she recalled.
"Then I just jumped in and I joined American Idol and, right now, I'm here with all my people."
You can read all about her path to success in this article in the Asian Journal,