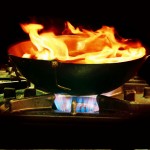 Home developers have all kinds of tricks to market to various ethnic groups. In areas where there is a large Asian American population, its not uncommon for architects to design homes considered to be feng shui. Some homes are constructed to accommodate large multi-generational Asian American families. But I was surprised to see an article on how to design a kitchen to meet the culinary needs of Vietnamese Americans.
The article in the Examiner.com went so far as to suggest a different ventilation system to clear the air of strong odors some times associated with Vietnamese American cuisines such as dried salted fish.
Special storage is required for large chopping knives, woks that don't fit into regularly sized cabinets and even an area for large butcher paper rolls for those delicious crab dinners.
 So I'm curious. Are these things really important to Vietnamese American families? AsAmNews would love to hear your thoughts.