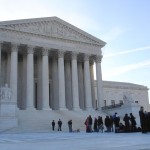 Several news reports today  indicate the U.S. Supreme Court may be poised to strike down key portions of the Voting Rights Act. NBC News reported several parts of the Act "are in big trouble. The question is how far will the Supreme Court go"
USA Today joined the chorus in reporting "the nation's most revered civil rights law emerged from a Supreme Court oral argument in critical condition Wednesday."
The Los Angeles Times simply stated the "historic Voting Rights Act appeared to be in deep trouble."  The case to overturn the Voting Rights Act was argued before the U.S. Supreme Court Wednesday and several justices expressed skepticism about the Act.
So what's at stake for Asian Americans?  A lot according to a blog in the Houston Chronicle. "The need to protect Asian-American voters' rights has never been greater," wrote Mustafa Tameez, president of the South Asian Chamber of Commerce.
In 2011, Texas' legislature carved up a majority Asian American district into three, merging Asian American voters with large non- minority voters–thus diluting the voting power of AAPIs that elected the first Vietnamese American to the Texas legislature. But under section 5 of the Voting Rights Act, the Federal Court rejected the redistricting plan.
You can read Tameez full argument for the Voting Rights Act in the Houston Chronicle