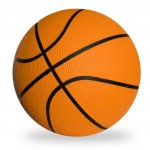 Much has been made of Jeremy Lin's numbers–12.7 points and 6.2 assists per game. Nothing to be ashamed of, but short of the All Star numbers many of his fans had come to expect during the height of Linsanity.
Lost in all this talk, says a blog in the Latinos Post by Jean-Paul Salamanca,  is the fact the Lin leads the second highest scoring offense in the NBA. The Houston Rockets average 106.3 points a game. That's just short of Oklamoma City's league-leading 106.6 points a game.
"I think we're getting more mature as a team and as individuals. We're understanding not to panic and to get back to what we do best," Lin is quoted as saying in the New York Times.
His teammate Chandler Parson gives the point guard a lot of credit.
"He's keeping us in our sets and doing all those little things that Coach was emphasizing," Parsons said.
Where will Lin take the Rockets from here and I will he continue to gel with his back court mate, James Harden? More on that in this article in the Latinos Post.