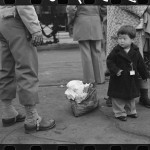 Five Japanese Americans that were forced to leave home and sent to incarceration camps seven decades ago shared their memories with an audience of 200 during the annual Day of Remembrance at the History Colorado Center.
"They looked at us as if we had no allegiance to real Americans-it was in our blood; never mind if we were American citizens by birth," Rose Tanaka told The Denver Post. He was sent to the Manzanar  in California at 15. "All of a sudden, I felt the hatred from other Americans against us," he added.
The event was hosted by the Mile High chapter of the Japanese American Citizens League.
Read more on The Denver Post.