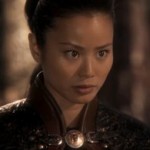 Actress Jamie Chung fresh off her role as Mulan in ABC's Once Upon a Time has landed a new part in producer JJ Abram's Believe on NBC, reports Asia Pacific Arts.
Chung will play the role of Channing who must protect an escaped prisoner.
For more on Believe and to see a clip of Chung in Once Upon a Time, read this article in Asia Pacific Arts.