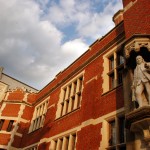 The Asian American Students Association at Princeton called on the University to devote greater resources towards building an Asian American Studies program and recruiting Asian American faculty and administrators, reports the Daily Princetonian.
The meeting between AASA and the school's ad hoc diversity committee was held nearly 20 years after a sit in by Princeton Alumni protesting the lack of an Asian American and Latino Studies program. Since that time, a Latino program has been established, but Asian American Studies remains a distant dream.
An editorial in today's Daily Princetonian called the establishment of an Asian American Studies program long overdue. You can read the editorial here.