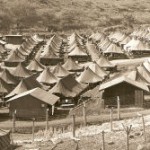 Little is known about the incarceration of Japanese Americans in Hawaii. In fact, it is a common misconception that no Japanese Americans on the Islands were ever detained during World War II.
A new documentary premiers Saturday in Waimea hopes to dispel that misconception, reports the Garden Island Sun.
According to "The Untold Story: Internment of Japanese Americans in Hawai'i," there were 13 confinement sites in Hawaii.
"For years and years, survivors didn't want to share their story," Kawamoto said. "It was too painful. People are starting to step forward and talk about what their fathers and grandfathers never," director Ryan Kawamoto said.
You can read a lot more about the Untold Story and the incarceration of Japanese Americans on Hawaii in the Garden Island Sun