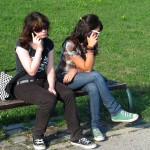 A blog post by Lily Qi in Asian Fortune News is an honest account of her struggles to win the respect from men her accomplishments have earned her.
It's a story no doubt that could be told by countless other women both Asian American and others.
"Over the years, I have learned to assert myself and hold my ground when being confronted by unpleasant or intimidating people or situations," Qi wrote.  "Several times, I have had to speak up in order to seek greater responsibilities or promotions in my career."
Qi goes on to say that being an immigrant woman adds to those challenges. You can read more on her thoughts in Fortune and then share your thoughts below with AsAmNews.