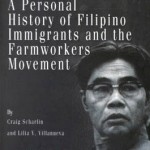 A campaign is on to name a public school in Union City east of San Francisco after Filipino American pioneers and labor leaders Larry Itliong and Philip Vera Cruz, reports the  Asian Journal
The Board of Trustees of the district voted unanimously to support the idea and a public hearing will be held with the Union City School Board tonight at 7:30.
One out of 5 students in Union City are Filipino American. If the measure passes, the Itliong/Vera Cruz Middle School would be the first in the country to be named after a Filipino American.
Itliong & Vera Cruz both helped organize Filipino American migrant worker sand along with Cesar Chavez and Delores Huerta led the Delano Grape Strike.
An online petition drive is underway to support the idea. You can find out more about the campaign and a link to the petition in the  Asian Journal.