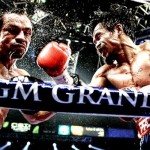 WBO welterweight champion Timothy Bradley says he received death threats after defeating Manny Pacquiao( pictured left) in a controversial split decision in June, reported SI.com.
"Some people talked about my wife, talked about my kids. I've had some people send me death threats because I won. I had a lot of people say I should give the belt back." said Bradley.
The decision by the judges was widely criticized by both fans and boxing analysts. But that's no excuse for sending anyone a death threat. Come on, people. Those weren't Pacquiao fans that sent those threats, at least not rational ones.