Fox TV announced this week it would be renewing the freshman series, the Mindy Project starring Mindy Kaling, reported E!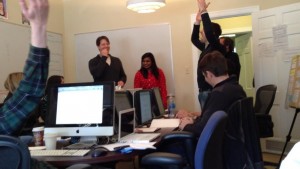 Mindy tweeted this picture showing the moment the show learned it would be coming back for a second season.
The Mindy Project has averaged 4 million viewers in its first season.
You can read about more about other shows renewed by Fox on E!
Now that the show is coming back, fans are wondering whether Mindy's friendship with Danny played by Chris Messina will bloom into a full romance. Fans are evenly split on the issue.
Kaling told Xfinity she herself is uncertain of which way the relationship should go.
"I am a little bit more in the know than the audience, but it's great to see what the reactions are and how things turn out." said Kaling. You can read more about Mindy's thoughts on the possible romance on Xfinity.