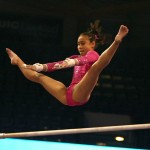 With the Olympic Gold Medal winning Fierce 5 barely in the rear view mirror, the next group of gymnastic stars for the U.S. is already beginning to take shape. Katelyn Ohashi of Texas may be on the top of the heap, reports Deadspin
The 15-year old is the 2011 junior national champion and the 2012 Pacific Rim all-around gold medalist in the junior division.
She began taking gymnastic classes at age 3 and never looked back. Her coach is Valeri Liukin, father to 2008 Olympics all-around champion Nastia. Many predict Katelyn will take over Team USA in the near future.
Katelyn was born in Seattle, Washington to Diana and Richard Ohashi and is the youngest of four children. You can read more about Katelyn and her teammates and see video of Katelyn on the balance beam  in the Deadspin.