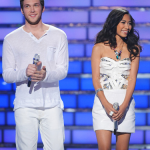 American Idol runner up Jessica Sanchez says she expects to be taping her appearance on Glee any day now. Little is known about the role she will play. The folks at Glee have been hush hush and Jessica told MTV she hasn't even been told.
Here's what little we do know. Glee creator Ryan Murphy told the Manilla Bulletin "I would imagine she is going to be the big voice star of another competing choir who gives them a run for their money." Up to now, its been expected Sanchez will appear in several episodes, but there's been no official confirmation.
Sanchez says she can't wait.
"I got a call from them, like, a couple days ago, very, very excited. I've been practicing my acting." Sanchez told  MTV. "It's like a whole new element for me. I've never acted before, so I mean, it's just like dancing; it's unexpected. So we'll see how I do."
MTV has an update on Jessica's new music video plus her thoughts on the current season on American Idol. You can watch the interview here.