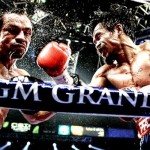 Talk of Manny Pacquiao's retirement is premature. according to a blog by Alex Groberman in Opposing Views.
To those journalists who say its time for Pacquiao to hang up the gloves, Groberman says "boxing writers tend to bury fighters too quickly. It's not a malicious thing, of course. Rather, it's simply because they are so emotionally invested in the sport and what they are seeing, they can't help but to react to the most recent event regardless of whether it was an aberration or not."
Yes, its true Pacquiao has loss two straight fights for the first time in his career. But Groberman reminds everyone that almost everyone agreed Tim Bradley's victory was just plain wrong. Most everyone scored the fight for Pac Man except the judges themselves. The decision was highly ridiculed.
Juan Manuel Marquez knockout of Pacquiao was legit, a no doubter.
The way Groberman sees it, it'll just take one good fight from Pacquaio to put the doubters back into his corner. More on Groberman's argument in Opposing Views,