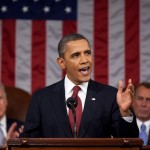 South Asian American groups were on hand this week when President Obama signed into law greater protections for immigrants and other victims of domestic violence, reports News Track India.
Among those on hand were members of South Asian Americans Leading Together (SAALT), Raksha, and Sakhi for South Asian Women.
"The South Asian community, experiences of domestic violence are often exacerbated by cultural and linguistic barriers and immigration status," SAALT said
Lakshmi Aiyappa, Executive Director ASHA for Women, agreed saying the new law "will dramatically change the future of many South Asian survivors of domestic violence,"
The President's action extends the 1994 Violence Against Women Act. You can read more about the significance of that act in News Track India.
The issue of violence against women in the South Asian culture gained greater urgency after a brutal rape and murder on a public bus in India. Last month, guest blogger Farah Khan made an urgent plea for change that resonated with the overwhelming majority of AsAmNews readers.