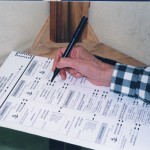 Poll data released by the Asian American Legal Defense & Education Fund found Asian Americans encountered numerous problems at the voting booth in 2012, some of which may have been a violation of law, reports the Atlanta Journal Constitution.
Accusations from 9,000 people surveyed in 14 states include being improperly asked to show proof of citizenship at the polls, not having access to translators or interpreters when reviewing ballots, and having their names misspelled on voter rolls.
The revelation comes just a week after the U.S. Supreme Court heard arguments to weaken the Voting Rights Act. Specifically the plaintiffs want a provision in the act requiring 14 states and some counties to get authorization before making changes to the voting law.
"Much of the talk about the Voting Rights Act has been about the African-American and Latino communities. None of it has been discussed with regard to the Asian community and the impact overturning it would have on that emerging demographic," Magpantay said. "We think it's a powerful tool to protect those rights in the future."
More on the problems  at the polls can be found in the Atlanta Journal Constitution.