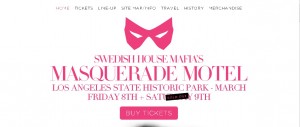 Swedish House Mafia's tour  is ending with its last concert in Los Angeles Saturday night after a 70,000-fan concert the day before.
Central station police lieutenant Bruce Hagerty said there were no arrests or reports of disturbances during a huge concert in LA's Chinatown Friday night, reported The Press-Telegraph. The theme of the concert was "Masquerade Motel" and it repeated Saturday night at the Los Angeles State Historic Park, near Olvera Street.
Swedish House Mafia is a Swedish electronic dance music trio made up of three house disc jockeys, Axwell, Steve Angello and Sebastian Ingrosso. They have been called "the faces of mainstream progressive house music."
The trio kicked off their farewell tour at the World Trade Center in Dubai on Nov. 16, 2012. Their shows continued across Europe through 2012 and then ending tonight in Los Angeles following shows in San Francisco.