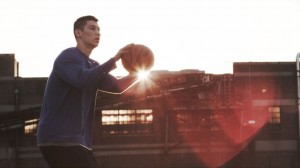 San Francisco's premier showcase of Asian and Asian American films, CAAMFEST2013 (Formerly San Francisco International Asian American Film Fest) opens March 14 with Linsanity, the documentary by Asian American filmmaker Evan Jackson Leong on the phenomenal story of Jeremy Lin.
Linsanity recently premiered at the Sundance Film Festival to audience acclaim. Leong agreed to answer the following questions about Linsanity through e-mail.
How difficult was it for you to gain Jeremy Lin's trust?
Jeremy and his family are very private.  Gaining his trust was crucial to the project but also very important for me as a filmmaker.  I think people share the most when they trust you.  It definitely took some time to earn his trust, but I think after a while he understood that I wanted to be truthful to his character and a conduit of his story.
What was the hardest part about doing this documentary?
The hardest part of any documentary is figuring out the structure. Up until February 2012, we didn't really have an uplifting ending to our documentary.  We had some success and some failures, but we didn't have the big turn you hope for in a documentary. Jeremy gave us an amazing ending last year.
What did you learn about Jeremy that most of his fans don't know?
I think Jeremy is pretty honest with himself and who he is on and off the camera.  So, there's not a lot that his fans don't know about him.  I got the honor to paint an intimate portrait of what it's like to hang out with Jeremy. And hanging out with him is pretty fun and at times, hilarious.
After spending so much time with Jeremy, did you find any misconceptions you may have had about him?
Most of the time, I think celebrities and famous people are as down to earth as they seem to be. Jeremy really is that down to earth.
Why did you want to do this documentary?
I grew up playing basketball.  When we first approached Jeremy at Harvard, he had gone farther than anyone in my community has ever gone with his basketball career.  At that point, I was fascinated by his story.  We all have role models growing up and I didn't have an Asian basketball player to look up to. I thought with this documentary, maybe some kids will be inspired.
How much pressure does Jeremy Lin feel being one of the few high profile Asian American athletes in any sport, not just the NBA?
Jeremy's an athlete.  All athletes put an incredible amount of pressure on themselves which help them achieve goals that they do.  That being said, I think the pressure he puts on himself is much greater than anyone can put on him.  I think he deals with the pressure amazingly and with impressive responsibility.
What do you want your audience to take away from the film?
I want the audience to feel like they got an intimate portrait of Jeremy and what he relied on to get to where he did.  And if they can re-live the highs from February 2012 for just a moment in this film, then I think we did our job.
What was it like for you to see the audience react to your film at Sundance?
It's the dream of any filmmaker to have a world premiere on a stage as notable as Sundance.  It was incredible. It was like our 2nd Linsanity.
CAAMFEST 2013 runs through March 24. More information is available at http://j.mp/10pNnwY