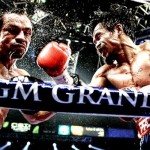 Manny Pacquiao concedes his next fight could be his last, reports Opposing Views
Many have called for Pacquiao to retire, including his own family, after his devastating knockout by Juan Manuel Marquez in December.
But   Pacman  told InterAKTV  he's too young to consider it.
"I am just 34 (years old)," he told Lee Jimenez.
Pacquiao says he has at least one fight left in him and a maximum of three.
Alex Groberman of Opposing Views speculates if Pacquiao loses his next fight, possibly his fifth with Marquez, it will be his last. You can read more in Opposing Views.