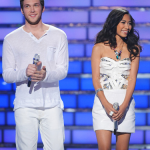 American Idol runner up Jessica Sanchez is promising her fans her new album Me, You and The Music will show a whole new side of her.
She told MTV the tone of her upcoming debut album will be set by her single with Ne-Yo, Tonight.
"I'm opening up to the world and showing everybody and my fans who I really am. I'm not just some timid girl. I love to have fun and I want to show everyone I can do that through my music and this song pretty much describes the whole album because it's clubby and dancy.
" 'Tonight' is a song about people that are usually stressed out, everybody has problems and everything, and 'Tonight' is a song about going out that night and having the best night of your life," Sanchez said.
Ne-Yo also wrote and produced Tonight along with several other songs on her album due out May 7th. She talked about working with Ne-Yo and how the collaboration came about with MTV,