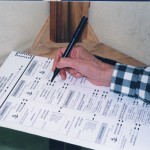 One of the untold stories of the November election may be the increasingly progressive politics of Asian Americans, according to a blog in Think Progress.
The article by Rex Teixeira points out that Asian Americans make up nearly half the increase in minority vote share. Asian Americans voted for President Obama by a wide margin, 73-26, an 11 percent increase over 2008 and an incredible swing from 1992 when Asian Americans voted for George Bush over Bill Clinton 54% to 30%.
But perhaps the biggest argument for labeling Asian Americans as progressive is a recent Pew poll. By 55-36, Asian Americans polled said they preferred big government with more services versus smaller government providing fewer services.
You can read more about Teixeira's argument that Asian Americans will help push the direction of the country to a more progressive direction in Think Progress.