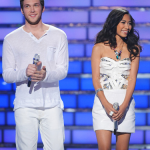 Jessica Sanchez announced on Access Hollywood that she will be debuting her new single "Tonight" on American Idol next Thursday, March 21.  Sanchez will be doing the duet with Ne-Yo who also produced the song
Sanchez (pictured her with Phillip Phillips, who performed last night on Idol) said the collaboration was something both of them wanted.
"He was a fan of mind last season on Idol and he reached out and said he wanted to  work with me," said Sanchez.  "It just happened and I feel so blessed. Its so awesome. I was a big fan of him before.
She said her new album titled "Me, You and the Music" will also be available for pre-order on March 21. She described it as "more of like an urban, poppy, R&B kind of feel. Its different from what I did on Idol. Its what I've always wanted to do."
You can hear more about how the songs were chosen for the album along with her project Idol Across America on Access Hollywood