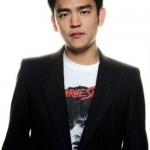 Star Trek producers Alex Kurtzman and Roberto Orci called on Mr. Sulu to guest star in an upcoming role in the pilot of the TV series, Sleepy Hallow on Fox, reports the Hollywood Reporter.
John Cho will play a likable police officer in the supernatural thriller.  But we soon learn there's more to this character than is on the surface.
Cho of course reprised the role of Mr. Sulu in the latest Star Trek movies. The next Star Trek movie, Into Darkness, premiers this year.