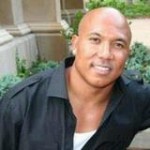 Former Pittsburgh Steeler, Super Bowl Most Valuable Player and Dancing With The Stars champ Hines Ward trained for his first marathon with a Marine amputee.
Today, they both crossed the finish line at the SUPERSEAL Triathlon in Coronado near San Diego, reports 10 News.
Marine Capt. Eric McElvenny lost his leg in Afghanistan just one year ago when an improvised explosive device, or IED, exploded.
"After I was injured, I was in the hospital in Balboa and I set a goal at running an Ironman," said McElvenny.
McElvenny and Ward who is of both Korean American and African American ancestry,  will try to qualify for their first Ironman Triathalon together in October.
You can see how the two have joined forces to encourage each other to achieve their goals on 10 News