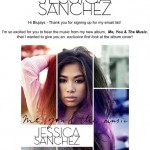 Glee executive producer Ryan Murphy has been promising all year that Idol runner up Jessica Sanchez would get a recurring role on Glee. That promise will finally be fulfilled in this season's final two episodes on May 2 and May 9th, reports Buddy TV Guide.
Sanchez will play a singer from a rival high school and many expect her to be competing in regionals, and possibly nationals. John Kubicek of Buddy TV speculates the year for New Direction will probably end at the regionals simply because Glee's season is drawing to a close. That would mean for the third straight year, our favorite characters won't be making it to nationals and the character played by Sanchez will probably the reason.
Sanchez is part of a long line of reality competition stars to appear on Glee in its four seasons. See how many can you remember and then compare notes with Buddy TV Guide.