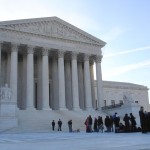 A PhD student at the University of Southern California sued for buying low cost edition of text books in Thailand and then reselling them for cheaper prices in the United States has won his case in the U.S. Supreme Court, reports the Bangkok Post.
Text books are sold much more cheaply in Thailand than they are in the United States.  Supap Kirtsaeng had his parents buy those cheaper books in Thailand and then send them to him in the United States where he sold them on eBay.
The publishing industry sued Kirtsaeng for copyright infringement saying he had no right to resell the books without their permission. A lower court decision fined Supap $600,000.
But the Supreme Court overturned that fine and said Supap's understanding of copyright law was better than the publishing industry's. You can read reaction to the decision and how the ruling could help eBay sellers on the Bangkok Post,