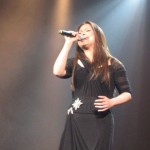 Broadway Star and Tony winner Lea Salonga talked about the passion and desire it takes to achieve fame and critical acclaim on Broadway.
Salonga who recently starred in the musical Allegiance and won a Tony for her performance on Miss Saigon gave her remarks after receiving a Myx Music Award, reports ABS CBN.
"All I'm saying is it has to be a basic a need as what can make you survive as a human being. It has to be bigger than what you think it needs to be, it has to be something you need to do and there can be nothing else," she said.
"If it's not like that, then don't get into this business. But if your passion is so great that it comes out of your mouth, your mind, your fingertips, and reaches audiences in the way you guys have reached the audiences tonight, then you belong here," Salonga added.
You can read about a tribute of Salonga in ABS CBN. You can watch her win the Tony for Miss Saigon on You Tube.