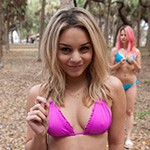 Vanessa Hudgens got a little animated on the Tonight Show Wednesday night, reports the Daily News.  The High School Musical star told a story about how she won a dance contest against Madonna's dancers at a party thrown by the  Material Girl.
Vanessa described her dance moves as a lot of booty pop. Leno told her he was an old guy and needed a demonstration to understand what that really was.
With a little urging from the crowd and accompaniment from the band, she obliged. You can see her Booty pop demonstration on the Daily News.