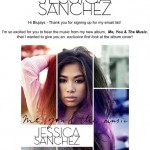 American Idol runner up Jessica Sanchez debut her new single "Tonight" on RyanSeacrest.com, reports Direct Lyrics.  The duet with Ne-Yo is about a night of letting out the stress and cutting loose.
She is scheduled to perform it tonight on the results show of American Idol. Sanchez has said Tonight sets the tone of her new album, Me, You and the Music which will be released in May.  She promises the album will be a mixture of pop and R&B and will have an urban feel–showcasing the real Jessica versus the ballads that she sang on American Idol.
You can listen to Tonight on Direct Lyrics.