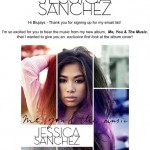 Jessica Sanchez may have won second place last season in American Idol, but the new recording artists admits being nervous about last night's performance on the show that made it all happen for her.
"Because it was such a stressful moment for me and something I wanted so bad and it finally happened. This is where it all started — it's so surreal and weird," she told the Hollywood Reporter. 
Sanchez is a little older and a little edgier now as she promotes her new single with Ne-Yo "Tonight" and the upcoming debut of her first album, "Me, You and the Music."
"I'm all about risqué — I love that stuff," she says proudly. "I love to be creative — that's what the entertainment business is about. You have to be out there sometimes." Sanchez says she will take some of that attitude with her when she films two upcoming episodes of Glee.
She revealed more details of her role and you can read about it in the Hollywood Reporter.
But ultimately, she did her best just to have fun. "I wasn't being judged this time," she laughs. "I felt like a bird. I was free and I could just sing."