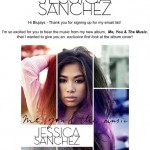 Idol runner up Jessica Sanchez today followed up her duet with Ne-Yo last night on American Idol with her new music video, "Tonight," reports the Idolator.
You can expect this song to get lots of radio time in advance of her debut album, You, Me and the Music on April 30th.  Tonight is a catchy dance tune that the Idolator calls "much stronger than that clunky-ass ballad the show foisted upon her last season, "Change Nothing."
Watch Jessica's new video on the Idolator and then let us know what you think of the video, her new single and, if you saw it, her performance last night on American Idol.