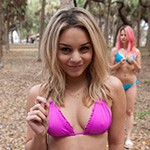 Vanessa Hudgens is leaving no doubt, in case anyone still had any, that she is leaving Gabriella, from her High School Musical Days, and Disney behind.
The 24-year old actress has released her new song and video $$$ex with the group YLA.
E! reports it was inspired by her role in Spring Breakers, which coincidentally debut Friday, the same day $$$ex debut. The lyrics are so explicit its doubtful the song will get much radio play, at least not the original version intended for clubs.
"It is a bomb-ass song, I love it so much!" says Hudgens. "It goes perfectly with Spring Breakers." Hudgens said.
Bomb-ass indeed.
Lyrics like "Can't you feel my hot sex, heart stop beating" and "Fifty in his pocket/a condom in his wallet/he's not gonna sleep tonight" give you a pretty good idea of what the song is all about.
It's the first song Hudgens has released since 2009. You can see the $$$ex video and read about  Hudgen's future plans in E!