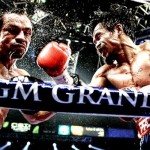 Manny Pacquiao this week admitted he cried after seeing the sad and sometimes tearful reaction of his fans in the Philippines to his loss to Juan Manuel Marquez, reports PhilBoxing.com.
"I tried to control my emotions right after the fight. When I saw that people were sad and crying, I felt so sorry that I failed them and I cried," Manny said .
"I felt sad that I lost but it was not until that moment when I saw how sad the Filipino people were when I broke down and cried. If only I could embrace them one by one and tell them that I was sorry that I let them down, I will do it," he said.
You can read more of Pacquiao's candid interview in PhilBoxing.com.