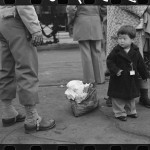 One untold tragedy of the incarceration of Japanese Americans during World War II is the loss of photographs taken by a dedicated group of extremely talented Japanese American photographers.
The Glendale News Press reports the photographers were pretty much prohibited from taking their photographs or their cameras to the incarceration camps.  Their best work would be loss.
"They were so damn good and nobody knew about them," said Dennis Reed, a retired professor at LA Valley College.  No body knew about them except Dennis Reed that is. The professor spent several years researching the subject and finding as many pre-war photographs that he could unearth, Reed put on a photography exhibition at LA Valley College in 1982.
"As of March 30, 1942, it was illegal, if you were of Japanese ancestry, to own and possess a camera," Reed explains. Relocation to the camps meant leaving something of their lives behind. "You could only take maybe two trunks. You're going to take clothing and the necessities, and they just couldn't take their photographs. Some just abandoned them. Some put them in storage, sometimes with ill effects."
A new book has now been published about the exhibition. You can read more about that and how Reed recovered the loss photographs and found the photographers in the Glendale News Press.