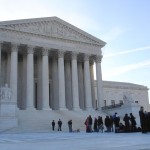 The nation's high court on Monday agreed to hear a challenge to a voter passed referendum in Michigan banning affirmative action in University admissions, reports CNN.  Last year an appeals court struck down Michigan's affirmative action ban.  It'll be the second high profile affirmative action case before the current court.
The justices are currently considering a case challenging the affirmative action program employed by the University of Texas.
The latest case before the Supreme Court will be argued by the office of Michigan Attorney General Bill Schuette who will argue in favor of the ban. Opposing it will be the By Any Means Necessary coalition that successfully sued to overturn the ban.
You can read more about the Michigan case as well as other historic affirmative action cases on CNN,