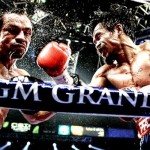 Boxing icon Manny Pacquiao says his next boxing match will be in September and he indicated he'd like to fight Juan Manuel Marquez a fifth time, reports the International Business Times.
There have been pleas from family members after his knockout loss to Marquez in December that he retire over concerns about his health.  His defeat to Marquez was the first time in the 34-year old's career that he has loss two bouts in a row.
"Tell them [the fans] to be patient. Bob (boxing promoter Bob Arum) and myself have been talking and will continue talking. What is definite is they'll see me fight again come September," said Pacquiao, as quoted in the Manilla Examiner.
He says he's all for a rematch with Marquez but that the final decision will be up to Marquez. The two first fought in 2004 in what ended in a draw. Pacquiao took the next two fights in very competitive matches before finally losing in December.
"If he doesn't want to fight me then I don't want to fight him either. So be it. It's that simple. He says he doesn't want to fight me because he won our last fight? Well, I am still ahead in the tally of our last four fights. I won two, lost one and drew one."
Manny also had a personal message for his fans. You can read about that in the International Business Times.