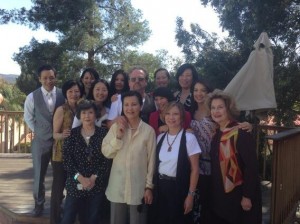 The women of the Joy Luck Club joined together with the rest of the cast and crew for a reunion on the 20th anniversary of the landmark film, reports ONTD.
Actress Ming Na Wen who hosted the reunion posted photos of the event on her twitter account. Everyone shared stories and celebrated with a 20th anniversary cake.
The film by director Wayne Wang and author Amy Tan marked a milestone in Asian American film history and received wide acclaim.
Joy Luck Club starred Ming Na, Tamlyn Tomita, Rosalind Chao, and Lauren Tom. You can find out what the four have been up to, see what they look like today and view a clip from the movie on ONTD.