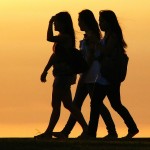 Students at the University of Southern California hope to give Pacific Islander high school students a boost Saturday when the University hosts the second annual PULE High School Summit, reports the Daily Trojan.
Just over 13 percent of Pacific Islanders attain a bachelor's degree compared to 24 percent of all Americans.  Organizers of Saturday's summit hope  to bridge the gap between Pacific Islanders and  higher education. The students in attendance will be encouraged to apply to USC where only 2 percent of incoming students are Pacific Islander.
Many have already been paired up with USC mentors.
"In the long term, we hope to establish a pipeline [to USC]," said student coordinator Mace Porotesano.
You can read more about the summit and efforts to reach out to Pacific Islanders in the  Daily Trojan.