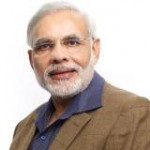 Three GOP lawmakers paid the first visit since 2002  by an American delegation (albeit unofficial)  to controversial Indian figure Narendra Modi, the Chief Minister of Gujarat, reports DNA.
Representatives Aaron Schock from Illinois, Cynthia Lummis from Wyoming and Cathy M Rodgers from Washington visited Modi with business leaders and invited him to come to the United States.  They also promised to lobby the Obama administration to get him a visa.
Modi has been banned from entering the United States by the State Department since the riots in Gujarat in 2002. The US consulate in Mubai distanced itself from the visit.  "We are aware of the visit. The US Congress is the legislative branch of the US government, and is separate from the administration." said an embassy spokesperson.
You can read more about the visit and Modi's reaction to the invitation in DNA.