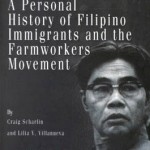 Small but nightly protests opposing the  renaming of a middle school after two Filipino American pioneers have taken place all week in Union City,  southeast of San Francisco, reports the Mercury News.
Up to now, most people who have taken a public stand have supported the name change. Filipino Americans and their supporters packed recent school board meetings to support  renaming Alvarado Middle School to honor labor leaders Larry Itliong and Philip Vera Cruz. It would be the first school in the United States ever to be named for Filipino Americans.
But opponents say its important to preserve Alvarado's history.
"It's like they've planted a seed for something that's already grown and beautiful," said Chad Parra. "Why would you want to knock it down?"
Another said, "This is going beyond race," he said. "People from all walks of life are against this."
The School Board is expected to vote on the issue April 16th.
You can read more about both sides of this issue in the  Mercury News.