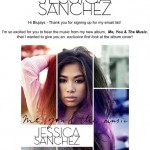 Idol runner up Jessica Sanchez has been invited to the Easter festivities at the White House, according to the  Times of India. The young entertainer who recently released the single "Tonight: with Ne-Yo is scheduled to sing the National Anthem Monday at the annual White House Easter Egg roll.
More than 30,000 people have received tickets to the daylong celebration at the White House. This year's festivities will be focused on promoting health and wellness with the theme, 'Be Healthy, Be Active, Be You!'
Sticking with the health theme, Indian American field hockey player Ajai Dhadwal from the US National team will help lead the fitness activities. Dhadwal will be in the "Eggtivity Zone" along with members of the President's Council on Fitness to lead youth in activities to encourage an active and fit life.