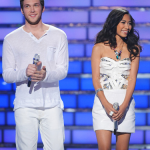 Jessica Sanchez stood right next to President Obama and the first family today during the annual Easter Egg Roll at the White House, reports the Examiner.com
The American Idol runner up sang the National Anthem for 35,000 invitees to the White House.
"Just met the first family! Ahh feelin so blessed!" tweeted Jessica this morning.
Examiner.com reports Jessica's fans lit up the twitterspere after watching the live stream from the White House.
You can catch Jessica's performance right here.