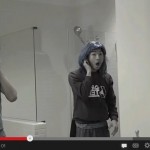 In Kevin Wu's newly released YouTube video, he dreams about having a twin, who cuts his hair and pierce through his ear lope with an earring piercing gun.
Wu, 22, is a Chinese American comedian and Youtube celebrity. He is best known as KevJumba, which is his YouTube username.
Watch the YouTube video here.