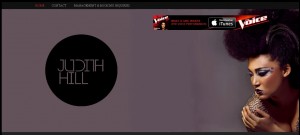 Judith Hill blew the judges away last week during The Voice's Season Four's blind audition with her soulful singing of "What A Girl Wants".
Hill was hired to sing with Michael Jackson at his This Is It shows in London back in 2009. The concerts were cancelled after Jackson's sudden death. Later Hill sang "Heal the World" at the Staples Center memorial service.
Today on her way to win The Voice, Hill remembered the brief time she worked with Michael Jackson, according to Yahoo.
"Oh, my goodness, I learned so much from him," she said. "I mean, the fact that he was a perfectionist…I learned, more than anything, to dream big and really have your imagination be big, and to work hard to make that dream possible. Michael had such dreams for the stage, like he was so picky about the particular lighting or how the drums should sound…it really challenged me to figure out what my dreams were, and work really hard. Michael was the hardest-working man in the business, and it was incredible seeing him and working with him."
Watch the highlight of "What a Girl Wants" here.