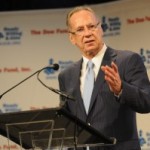 A New York City candidate for mayor didn't get the reaction he had hope for when he mentioned his patronage of an inexpensive Asian massage therapist, reports the Daily News.
GOP hopeful George McDonald (pictured here) was responding to a question from the Asian American Federation about supporting Asian American businesses.
McDonald touted his visit to the Japanese restaurant Wasabi Lobby and his visit to an Asian massage parlor.
Rival Republican candidate John Catsimatidis did do any better when he boasted his family loves Asian food.
"I was surprised that the candidates would come to a meeting convened by the Asian American Federation [and] not better understand that community,"  Federation Chairman George Wang said. "I don't want to put them down for a silly or unfortunate comment, but I think they need to . . . to better educate themselves."