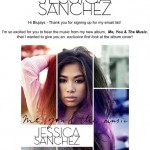 Jessica Sanchez has begun filming for the season finale of Glee, reports M Star News.
She told the paper the offer to play a role in Glee came surprisingly fast.
"Ryan (Murphy, the show's co-creator) called and asked me to a meeting," said Sanchez. "It happened so fast." she explained. Ryan offered her the role shortly after the first meeting.
This will be Jessica's first attempt at acting so she immediately enrolled in acting classes. She declined to comment on reports she will play Finn's love interest on the show.
"Not sure [about that]. That's a big rumor."
She also talked about returning to the Philippines and a planned concert there. You can read more about that in M Star News.