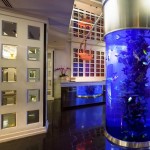 Celebrity Indian American hotel owner Vikram Chatwal has been arrested on drug charges at the Ft. Lauderdale/Hollywood Airport in Florida, reports NDTV.
Police say the multi-millionaire and owner of the Dream Hotel in New York (pictured here) was found carrying a large amount of drugs and has admitted to the charges.
"He provided a statement to narcotics detectives admitting possessing and purchasing the controlled substances illegally," an officer wrote in his police report.
You can read more about Chatwal's arrest in NDTV.