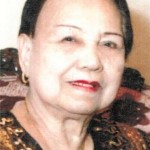 Funeral services have been held for a member of the underground movement during World War II know as the Filipino American Irregular Troops, reports North Jersey.com.
Fe Tolentino, who died March 25 at the age of 87, conducted intelligence until the liberation of the Philippines in 1945.
The United States commended her heroics when it recognized her as a Deserving Guerilla of World War II.
She war born in the Philippines and came to the United States in 1981.