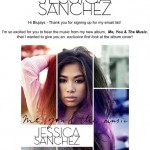 "I cannot be the shy girl anymore," American Idol runner up Jessica Sanchez said by phone to the Manila Bulletin.  She was referring to her upcoming role on Glee in which she'll play a diva from a rival school. But she could have been talking about her own life.
She's been busy promoting her new single with Ne-Yo, Tonight, and premiered it performing the duet live on American Idol. She has her first album coming out at the end of the month. And then there's her appearance on the final episodes this season on Glee.
She's looking forward to meeting fellow Filipino American, Darren Criss on Glee.
"I have not met Darren Criss yet so I am looking forward to meeting him," she said. "I am so excited. I heard my character will be shown in the final three episodes."
She was thrilled to see Randy Jackson and Ryan Seacrest back on the set of American Idol.
"It is so amazing to see all the people I collaborated with," she said. "I am so very blessed."
She talked about her desire to return to the Philippines to see her mother's hometown, but declined to pick a favorite song from her new album.
You can read more of the extensive interview with Jessica in the Manila Bulletin.